10 Best Android Backup Apps without Root [Most People Don't Know]
When you decide to update Android OS, do a factory reset, or flash a dead Android phone, you may need to back up your device data for preservation beforehand. The same is applicable to the desire to restore backups to your new cellphone. Maybe you just don't want some apps to gain access to your mobile. So "best Android backup without root" is probably a topic of interest to you. Well, let's take a closer look at the top ten tools of this kind.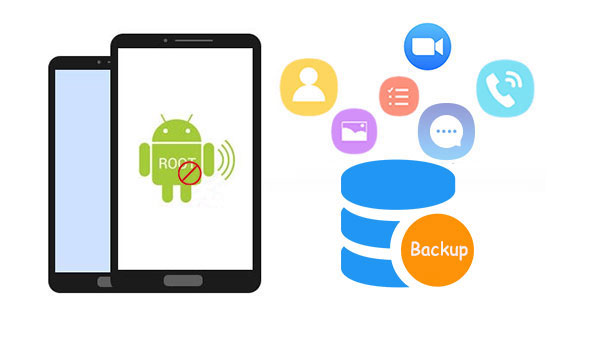 Top 1: Best Android Backup without Root - Backup Manager for Android
With a single touch on MobiKin Backup Manager for Android (Win and Mac) (termed as MobiKin Backup & Restore), you can easily run a backup of your Android phone. This is one of the best Android-based products for quick backup and restoration, as reported by many users. When you get it on a computer, you just need to do the backup following the simple tutorial on its screen. Overall, not a bad deal.
Overview of MobiKin Backup Manager for Android:
Fleetly back up Android phones/tablets without root.
Restore Android devices with a single touch.
Apply to such files as contacts, messages, call logs, photos, music, videos, documents, and apps.
Easy connection, fast processing, and worry-free.
Compatible with almost all iOS devices, including Samsung, Huawei, Sony, LG, Google, Motorola, OnePlus, Vivo, Xiaomi, OPPO, etc.
It won't let out your privacy.
How can I use Android Backup & Restore to backup my Android phone without root?
Step 1. Ensure your Android device is linked to a computer
Run the program on your computer when the free download and installation are done. Attach your phone to the computer via USB or Wi-Fi (How can I connect my Android phone via Wi-Fi?). You will soon get the main screen of the software.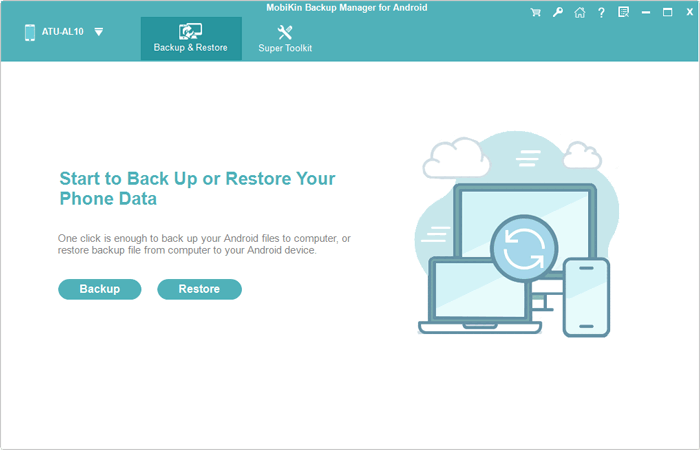 Step 2. Select the data types to back up
Click "Backup" from the page, and you'll see a list of data types. Please check the items you want to back up before selecting them.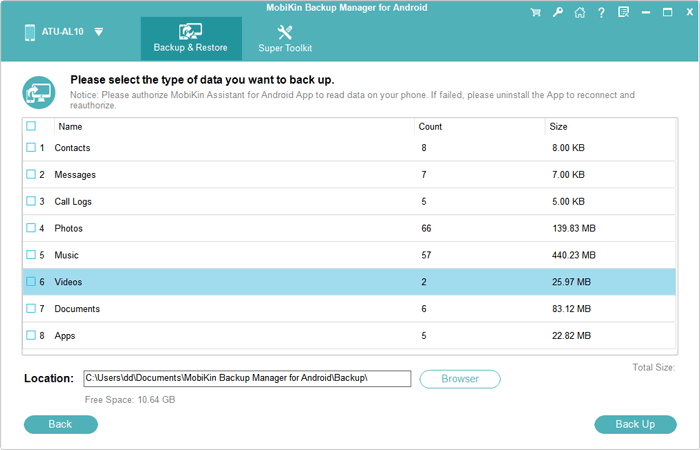 Step 3. Back up the Android phone to the computer without root
Hit "Browser" to set up a location for saving output content. Finally, please tap on "Back Up" to initiate Android backup without root.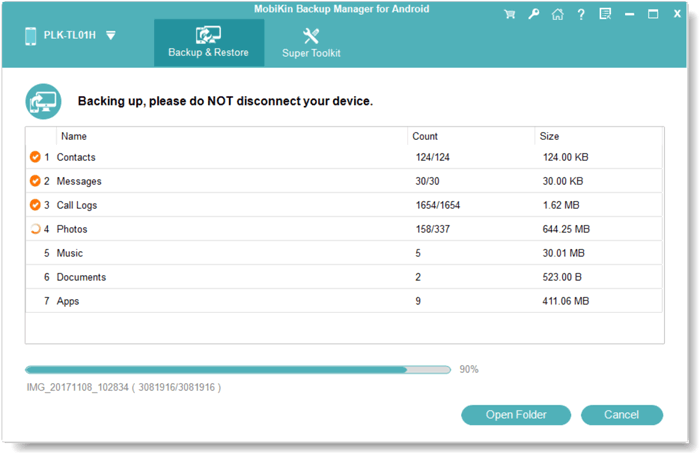 Price:
Free trial & $19.95/year.
You Might Be Interested in:
Top 2: MobiKin Assistant for Android
As an enhanced version of the previous software, MobiKin Assistant for Android (Win and Mac) not only allows you to back up your entire Android phone to your computer in bulk but provides you with selective backup and restore, fitting well with "the best Android backup non-root". Often, when you want to transfer some contacts and photos from Android to your PC, you can preview and select them on the tool first after a flexible connection (USB & Wi-Fi).
In addition, as a multi-functional tool, it also offers you data management functions, through which you can organize your Android content directly on your computer. Further, this product can help handle items like contacts, messages, call history, pictures, songs, videos, documents, and applications.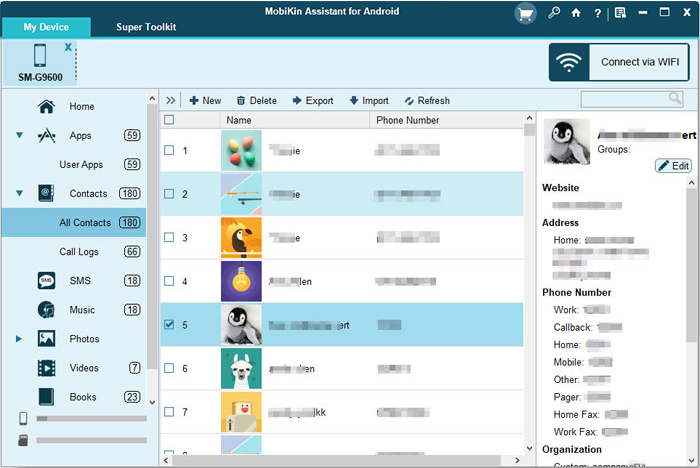 Price:
Free trial & $29.95/year.
Top 3: Google Drive
Google Drive is a great cloud backup and restores service, facilitating users to upload files like photographs, videos, documents, etc., to Google. You have the opportunities to view items offline, manage access levels, and navigate through content from Google Photos. Plus, you can share files/folders or even invite your friends to view, edit and add comments. (Google Drive not working?)
Price: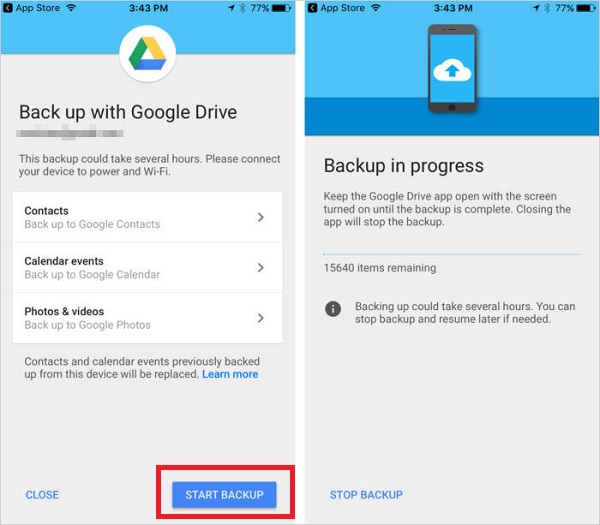 Further Reading:
Top 4: G Cloud Backup
Offering 1GB for free, G Cloud Backup gives you up to 10 GB of storage in its Cloud for a fee. This service lets you back up your Android phone without root, covering contacts, messages, images, videos, documents, call history, Whatsapp, Viber, and more for an easy restore. You can even use it to configure auto backup, let's say when you connect your phone to Wi-Fi.
Price:
$5.99/month or $59.99/year.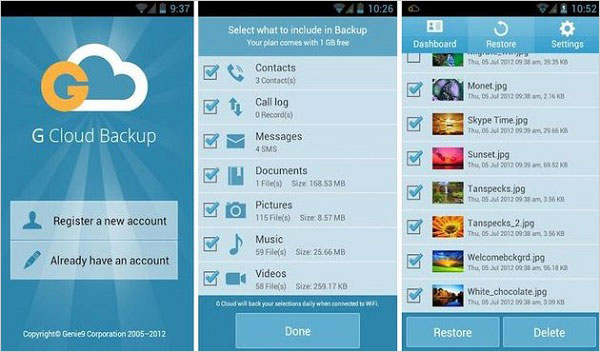 Top 5: App Backup & Share
Do you want to back up various files on an SD card or internal storage in fully offline mode? Do you need to keep the backup on Google Drive, Dropbox, or OneDrive? Alright, App Backup & Share makes it easy for you to do these. Moreover, you can utilize it to manage your phone and share apps like WhatsApp or Facebook Messenger on its ads-free interface.
Price:
Download Super Backup & Restore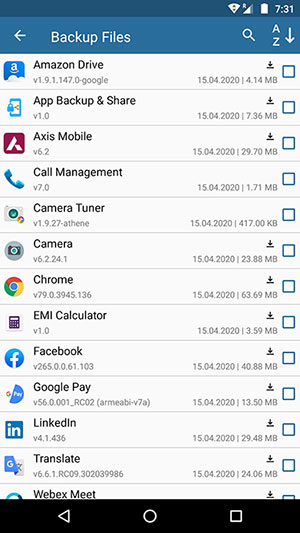 Top 6: Swift Backup
As one of the best Android backup apps without root, Swift Backup runs backups of your Android phones on Google Drive, Dropbox, ownCloud, and Nextcloud, including SMS, call logs, wallpapers, contacts, etc.
To back up more data types, please root your phone. (Is my phone rooted?) And after that, you'll be empowered to schedule backups efficiently. Further, its premium version gives you the ability to get app labels and custom backups on Cloud. Else, please note that Google Sign-in is needed for cloud backup.
Price:
Start from $3.00 (50% off).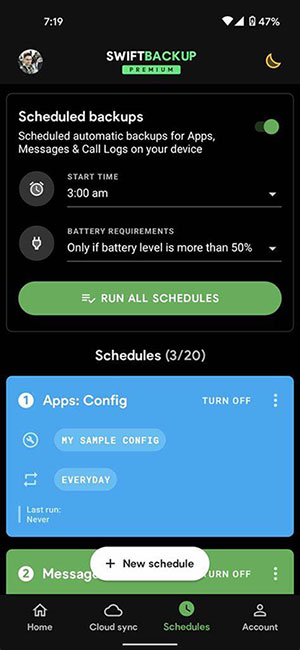 Top 7: Resilio Sync
Do you want to send your personal data to 3rd-party cloud storage? Try to use Resilio Sync to get your backups on a PC hard drive after hooking up your phone to the computer. This decent tool focus on automatic backup of your media files when you are running on a platform like PC/Mac/NAS/tablet. If you want more control of your phone, please turn to its premium version.
Price: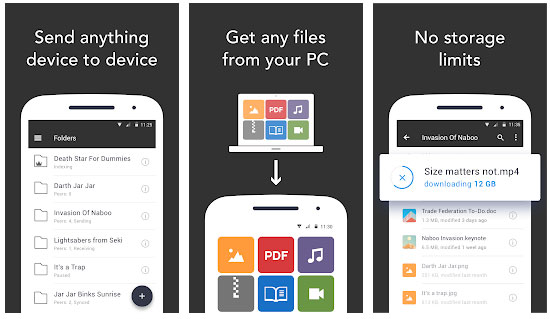 Top 8: App Backup & Restore
As its name suggests, App Backup & Restore is specially designed for taking backups of Android apps. This outstanding tool lets you keep backups to SD cards/cloud storage or extracts, shares, and even edits APK files. Again, it enables you to categorize Android applications by name, size, and installation date. In addition to scheduling backups for timely preservation, it also comes packed with an app refresher, security scanner, and cache cleaner.
Price: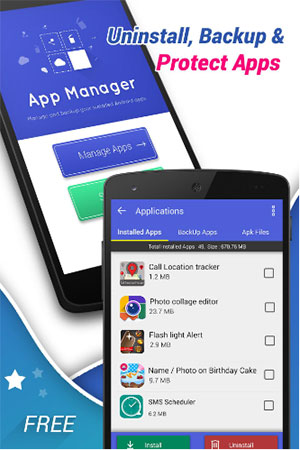 Top 9: Helium
Helium centers on backing up Android devices with or without backup. You are free to perform Back up your Android phone to an SD card or to cloud storage. Unlike some other programs, it's able to sync app data from another phone even if they aren't within the same network. However, please note that this tool cannot work well with the app that disables ADB backup and may be incompatible with some phone brands.
Price:
The current price is $11.59.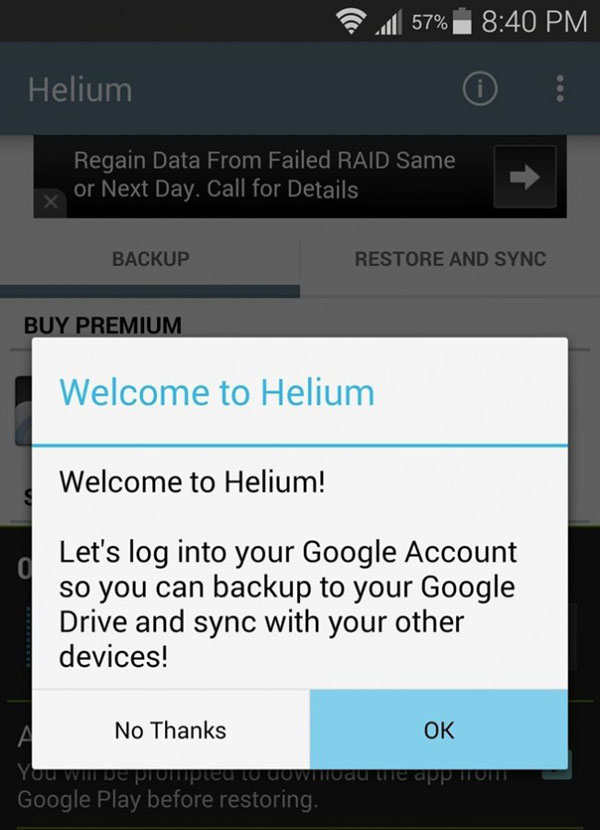 Top 10: Easy Backup
If you just need to back up Android phone contacts without root, consider Easy Backup. This app focuses on making backups of contacts in .vcf, a handy contact backup & restoration extension, to cloud storage. You can do the task even without activating the Internet connection. What's more, it makes it easy for you to swap contacts between different accounts as well.
Price:
The current price is $18.45 (29% off)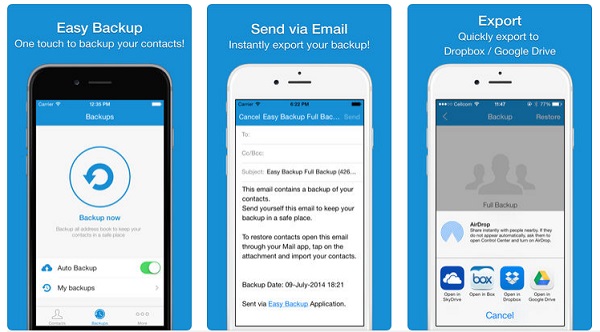 Calling It a Wrap
That's all for today. Well, we just introduced the ten most recommended tools for Android backup without root. When deciding which one to choose for making copies, make sure that the programs support the data types you want since some of them can only cope with one or two. Finally, if you have any questions or find better utilities for Android backup, please let us know on the message board.
Related Articles:
Want to Fake GPS with No Root? 6 Programs You'd Better Know
Easy & Safe Ways of Android Data Recovery without Root [Proven Tips]
[Solved] How to Back up WhatsApp Messages from Android to Mac?
Top 5 Powerful Android Data Recovery Apps and Software of 2022
5 Most Popular Android Phone Unlocking Software [Must-Read]
10 Best Android Phone Repair Software and Apps to Fix Android System Issues