6 Tips to Back Up WhatsApp Media/Messages on Android [Detailed Guide]
WhatsApp has become one of the most important social apps used by many folks in their daily communication. There are massive new WhatsApp conversations that occur on this tool almost every day. And as you might know, if the messages, photos, and videos generated by chats are not well kept in time, they may disappear from WhatsApp for unexpected reasons. Thus, the best remedy for this situation is to back them up timely.
Well, that brings us to today's topic - how to back up WhatsApp on Android. If this problem traps you, please read this article for proven solutions.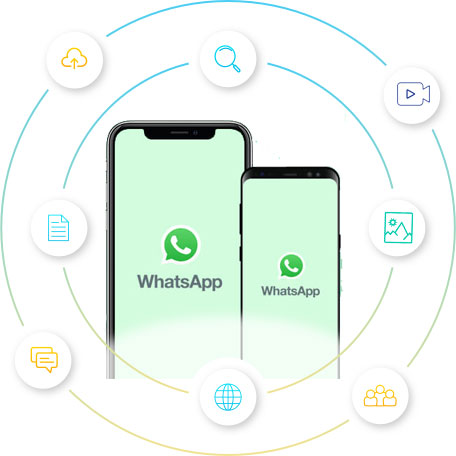 Way 1: Back Up WhatsApp Media/Messages on Android to PC Directly
This method lets you get WhatsApp conversations on a PC from your phone's internal memory. (How to recover deleted data from Android internal memory?) After the backup is created in this way, you cannot read those messages unless you adopt a 3rd-party software to make them readable.
How to make WhatsApp Android backup to PC directly?
Connect your Android Phone to a PC using a USB cable.
Go to your phone's internal memory and choose the "WhatsApp" folder.

Copy the folder and put it on your wanted drive on this computer.
Head to the WhatsApp folder and select the messages within.
Go for "Export to PC" to trigger the transfer.
It may take a few minutes before the messages are stored with the extension.
You Might Like:
Way 2: Back Up WhatsApp on Android to Computer with WhatsApp Transfer
Would you like to maintain a copy of your WhatsApp messages on a PC or Mac for simple restoration? Do you want to copy WhatsApp chats between two devices, irrespective of the system on them? Well, those are where WhatsApp Transfer works properly. As a professional WhatsApp transmission tool, it integrates multiple features, not limited to copying content between mobile phones and computers.
WhatsApp Transfer - The best data backup tool for WhatsApp:
Smartly back up WhatsApp data from Android/iPhone to PC/Mac.
Restore WhatsApp backups to any devices as required.
Transfer WhatsApp chats between Android/iOS devices, from iOS to Android, and vice versa.
Back up data like LINE/Viber/WeChat/Kik chat history.
Work for various iOS/Android devices, covering iPhone 13/13 Pro (Max)/13 mini/12/12 Pro (Max)/12 mini, iPhone 11/11 Pro/11 Pro Max, iPhone X/XR/Xs/Xs Max, iPhone 8/8 Plus, iPhone 7/7 Plus, iPhone 6/6S/6 Plus, iPod touch, iPad, Samsung, Xiaomi, Huawei, Google, LG, Motorola, Vivo, OPPO, Sony, ZTE, etc.
It won't let out your privacy.
* How to create WhatsApp backup for Android with WhatsApp Transfer?
Step 1. Install and run WhatsApp Transfer on your computer. Select "WhatsApp Transfer" from the incoming interface.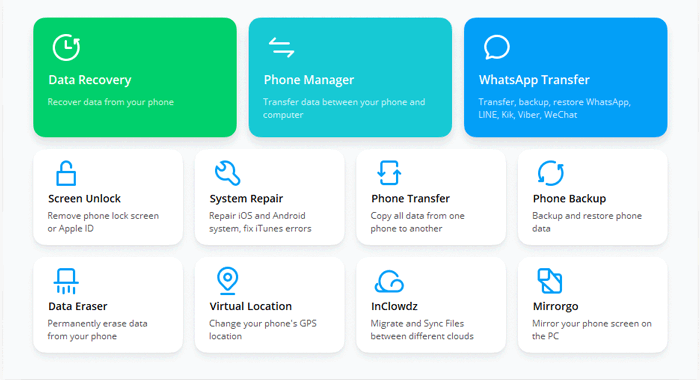 Step 2. Connect your Android phone to this computer. Next, go to the "WhatsApp" section and select "WhatsApp" > "Backup WhatsApp messages".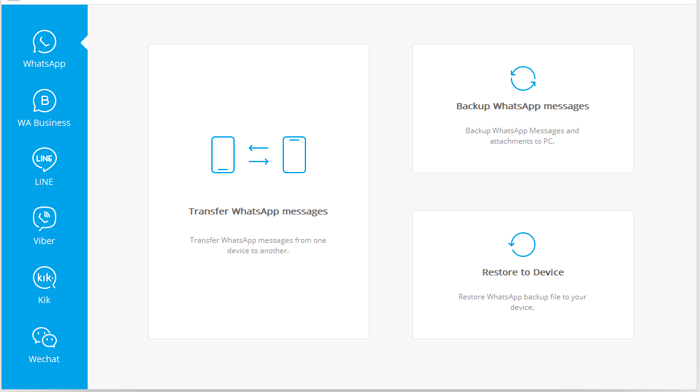 Step 3. After your Android device is detected, the WhatsApp message backup starts automatically. Please follow the directions below to back it up.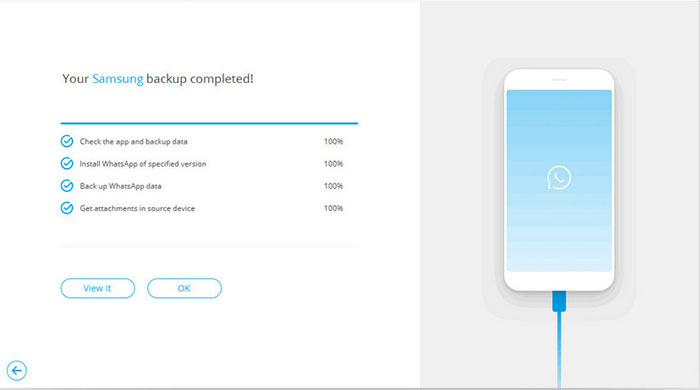 On your Android device, tap "More options" > "Settings" > "Chats" > "Chat backup" > "Never" > "Backup to Google Drive" > "BACKUP". Then tap "Next" on the tool.
Tap on "Install" when prompted on Android. (Can't see the pop-up windows on your phone? Tap "Show Again" on the software, and you should find it on the Android device.)
Verify and restore WhatsApp chats on Android. Once completed, tap on "Next" again.
Step 4. When the backup is done, you can see that all the processes are marked as "100%".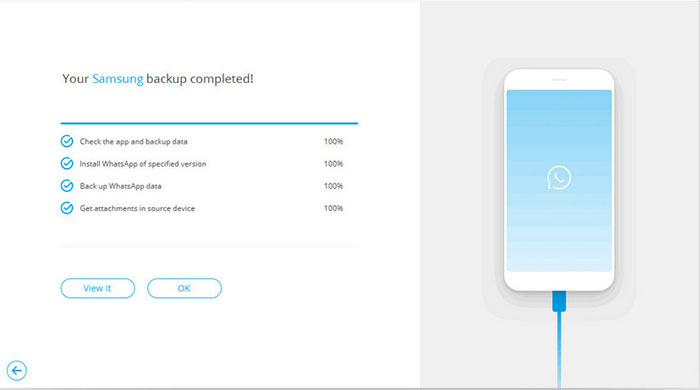 You can now click "View" to check your WhatsApp backup records on this computer.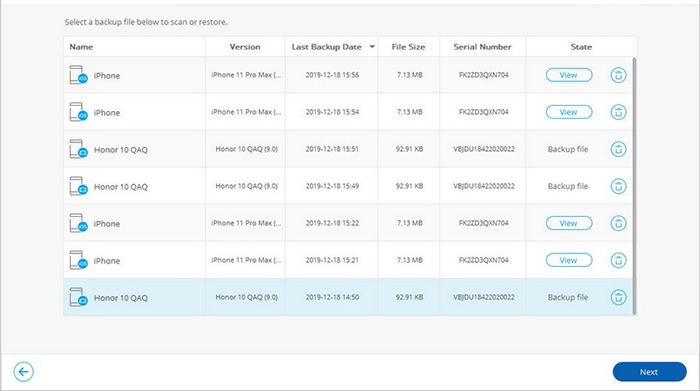 * How to restore WhatsApp chats on Android using WhatsApp Transfer?
To restore WhatsApp message backup to the Android phone with the same WhatsApp account being used, please first link your Android phone to the computer.
Tap "Restore to Device" to bring up all the WhatsApp backup files.

Choose your required one and click "Next."

Click "Restore" > "Continue" to save the backup to this Android phone.
Way 3: Back Up Android WhatsApp Using Google Drive
Google Drive, a slow yet free service, makes it convenient for Android users to keep a copy of WhatsApp data on the cloud. After that, the entire backup can be restored whenever needed. It is remarkable that Google Drive lets you make an automatic backup and select the frequency like daily, weekly, or monthly.
How to create WhatsApp online backup for Android with Google Drive?
Run WhatsApp on Android and tap the three-dot icon.
Proceed to "Settings" > "Chats".
Hit "Chat backup", followed by "BACK UP".
To schedule backup frequency, please tap "Back up to Google Drive". Please make sure the correct Google account and Wi-Fi network are chosen. (Google Drive not working?)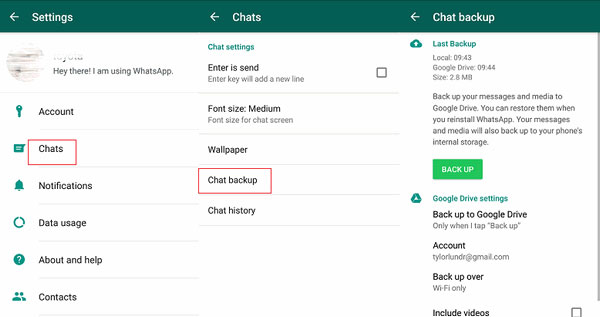 How to make an end-to-end encrypted backup? (Quick Navigation: Launch WhatsApp > "More" > "Settings" > "Chats" > "Chat backup" > "End-to-end encrypted backup" > press "TURN ON" > create a password or use a digit encryption key > press "Create".
Check If You Need:
Way 4: Back Up WhatsApp from Android to SD Card
If there's an SD card in your Android phone, you can easily save a copy of WhatsApp chats on the card instead of local storage. Here's how to copy WhatsApp asetukset from Android to a microSD card:
Unlock the microSD-compatible phone and launch WhatsApp.
Tap the three dots and choose "Settings".
Go to "Chats" > "Chat backup" > "Back up to Google Drive".
Choose the "Never" option.
Return to the "Chat Backup" screen and click "Back Up".
WhatsApp will now move WhatsApp data to an SD card and keep the original version.
Way 5: Back Up WhatsApp on Android over Email
To take advantage of Email, the built-in feature in WhatsApp, you can freely export chats without a 3rd-party product. However, you have to repeat the same drill many times if there are a number of WhatsApp messages since each chat will be sent individually in this way. Next, check out the steps to learn how to make WhatsApp backup for Android by Email:
To start with, open WhatsApp on your cell phone.
Choose "Settings" > "Chat Settings" > "Chat History" > " Email Chat".
Select the WhatsApp conversation you wish to transfer to through Email.
Then select "Attach Media" or "Without Media".
Fill in the necessary blanks with your info.
At last, press "Send" after entering your email info.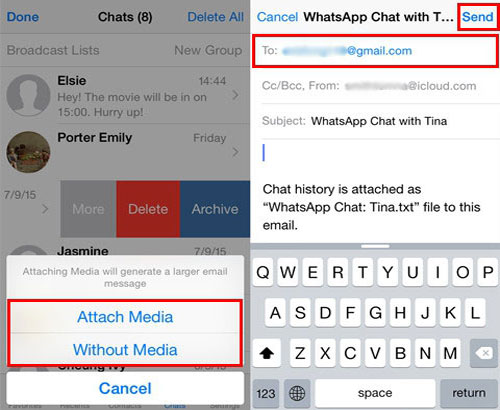 Way 6: Back Up Android WhatsApp via Samsung Account (Samsung Only)
Samsung users can utilize a Samsung account to maintain a copy of WhatsApp data on the cloud storage. Yet the steps may vary slightly depending on the Android version. The drill below works with devices running Android Pie and above.
How to perform WhatsApp Android backup with a Samsung account?
Run the WhatsApp app and go to its "Settings".
Go for "Accounts and backup" from the pull-down menu.

Choose "Backup and Restore" > "Backup data".
Log in to your Samsung account as required.
Select WhatsApp data to back up and touch "Backup" > "Done". (What if Samsung cloud backup failed?)
Extra Tip: How to Restore WhatsApp Chat on Android
Since your Android phone makes local backups every day by default, there might be more recent data locally for easy restoration. You can make it each time you reinstall WhatsApp on your phone. Here are the steps:
Install WhatsApp on an Android phone from Play Store.
Run WhatsApp and verify the phone number.
During the setup, touch "Restore" as prompted.
Hit "Next" to restore WhatsApp backup to this Android device.
Summary
There you have it! On the whole, if you were just absorbed in this page, you would undoubtedly find that WhatsApp Transfer is almost a perfect tool. The most attractive thing about this program is that it is almost an all-rounder.
In addition to being able to transfer WhatsApp chats across many different platforms, it is also widely applicable to other major social apps besides WhatsApp. With this all-in-one utility, you'll never lose a message on most social apps again.
Related Articles:
18 Innovative Ways to Fix WhatsApp Chat Backup Stuck on iPhone/Android
5 Ways to Print WhatsApp Messages from iPhone/Android Phones
3 Simple Steps to Transfer WhatsApp Backup from Google Drive to iCloud
A Complete List of Top 10 Contact Backup Apps for Android [2022]
How to Back up and Restore Text Messages on Android? 5 Hot Tips Here
Messenger Backup: How to Back Up Facebook Messengers for iPhone/Android?