A Complete List of Top 10 Contact Backup Apps for Android [2022]
The upsurging social platforms make it a lot easier for us to get close to all kinds of people. Nevertheless, keeping in touch with the outside world through the Contacts app on Android still bears one of its main functions as of now. Almost all adults' phones have a long contact list, which may be your classmates, colleagues, friends, and even business partners.
To keep the list well, it is nearly everyone's consensus to find a well-functioning and safe app to back it up. OK, this page is mainly about the top 10 contact backup apps for Android. Follow this step-by-step guide if you're on the lookout for those programs.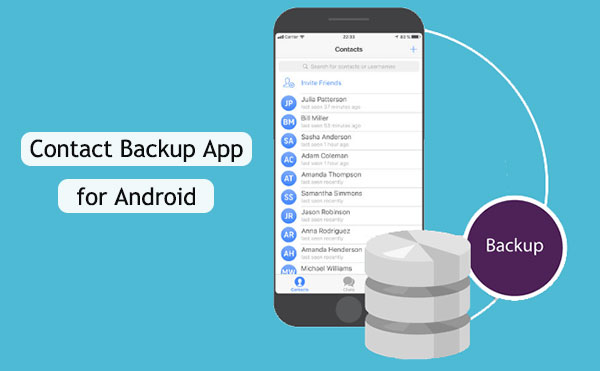 Top 1: Best Contact Backup App for Android - Backup Manager for Android
As one of the best contact backup apps across the globe, MobiKin Backup Manager for Android (Win and Mac) (Termed Android Backup & Restore) allows you to back up almost all Android data to a computer and restore them anytime. Despite not being the fastest contact backup out there, this robust Android contacts backup app is quite easy to use and is assured of your data security.
Overview & Main Features:
One-touch to back up and restore an Android device quickly.
Transfer selective data types from Android to a computer and move them to any Android phones/tablets.
The supported file types: Contacts, messages, call logs, photos, music, videos, documents, and apps.
Two connection modes: Wi-Fi and USB.
No root is required, and easy to use.
Apply to 8000+ devices, including Samsung, Huawei, Xiaomi, Sony, Motorola, LG, Google, OPPO, Vivo, Realme, etc.
It won't disclose your privacy.
How to use Android Backup & Restore to back up Android contacts?
Step 1. Open the software after downloading and installing it on your computer. Then connect your Android phone to this computer through a USB cable.
Step 2. Please ensure to enable USB debugging on Android to get your phone recognized. After that, it'll display the screen with "Backup" and "Restore". Select the former to go ahead.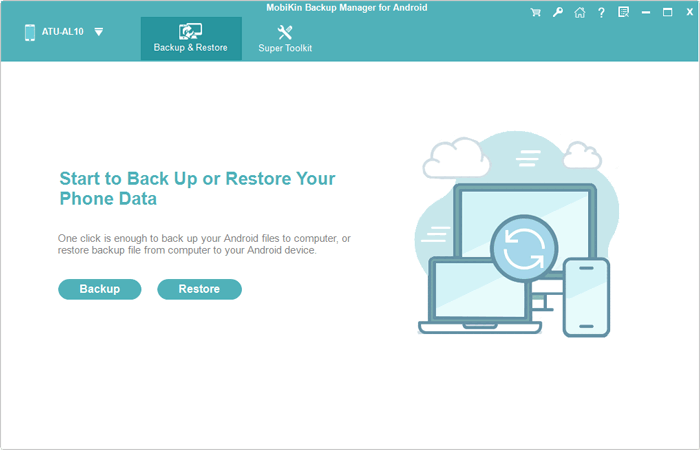 Step 3. Choose "Contacts" and specify a location on your computer to store the files. Finally, tap "Back Up" to initiate contact backup, and you're good to go.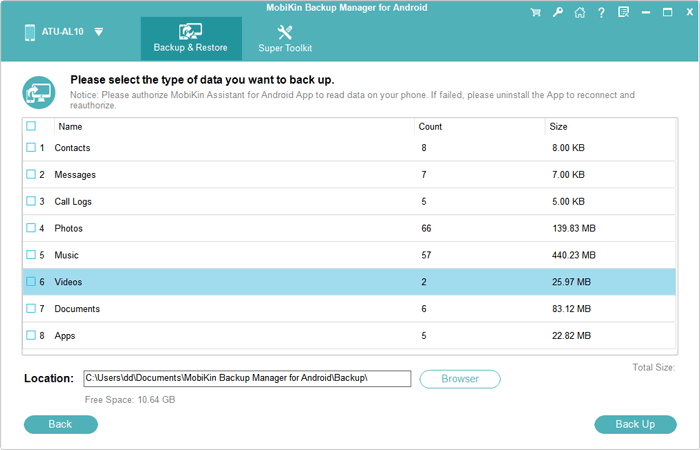 You May Also Like:
Top 2: Android Backup and Restore
Overview: Android Backup & Restore is another option for you to selectively back up data from Android to a PC/Mac. This top-rated program lets you copy files, including contacts, texts, call history, calendars, photos, music, videos, apps, app data, etc. As the simple contact backup goes, it does the job in style within minutes.
Further, with this tool, you can also view and restore the backups to any Android or even iOS device. And it makes it possible for you to restore iCloud/iTunes backup to an Android phone/tablet.
Main Features:
Incremental restore.
Data preview before backup.
Although it isn't an iPhone contacts backup app, this product helps restore data to iDevices.
Restore off-the-peg iTunes or iCloud backup to Android.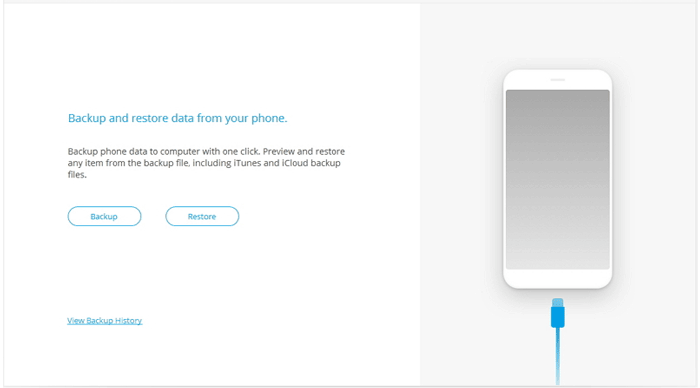 Top 3: Easy Backup
Overview: Being one of the best free contact backup apps for Android, Easy Backup can back up and restore all your contact details with minimum effort. After that, you can copy them to Excel, Email, or other apps. In addition to keeping various contacts, messages, call history, calendar events, and bookmarks secure, it also helps export backups to cloud storage like Dropbox and Google Drive.
Main Features: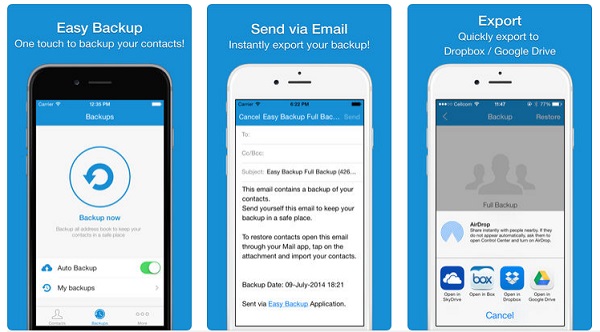 Top 4: Titanium Backup
Overview: Available in 32 languages, Titanium Backup is designed to work for rooted phones (Is my phone rooted). When you get it on Android, you'll have the power to backup files, such as contacts, bookmarks, SMS, MMS, call logs, photos, videos, etc. Moreover, its pro version is shipped with advanced features, including scheduled backup, app freezing, and encryption.
Main Features:
Backups carry out in the background.
Let you keep your contact backup on the cloud platform.
Browse file details.
Keep backups for app data.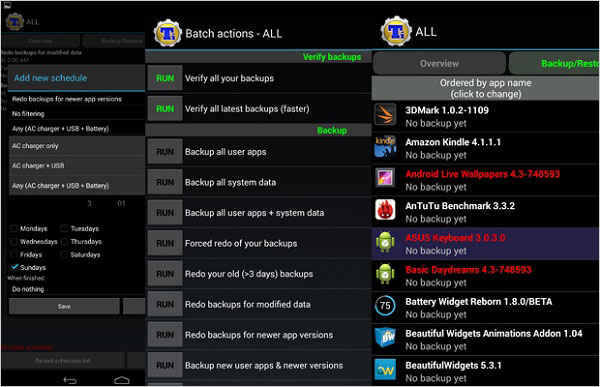 Learn More:
Top 5: G Cloud Backup
Overview: G Cloud Backup makes it pretty simple to create backups of more than one device on an external device like an SD card. After you get its free version, you'll have 1GB of storage space. And this best contact backup app for Android lets you earn up to 10GB if you upgrade to its premium version. This program lets you copy files such as contacts, messages, call logs, phone settings, games, documents, etc.
Main Features: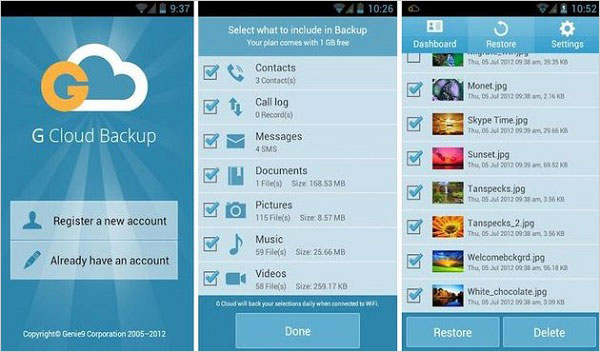 Top 6: Helium (Premium)
Overview: Helium (Premium) lets you create a backup of your Android phone without root access. Users will enjoy the ads-free screen when they get its full version. This tool helps you make a backup on a computer or cloud services with a companion app. However, you might use its free trial (It isn't available on many platforms now) with only 80 to 90 percent of the content being backed up.
Main Features:
Schedule auto backups.
Come packed with multiple features in its full version.
Certain backup limits still exist.
Doesn't work well with Sony phones.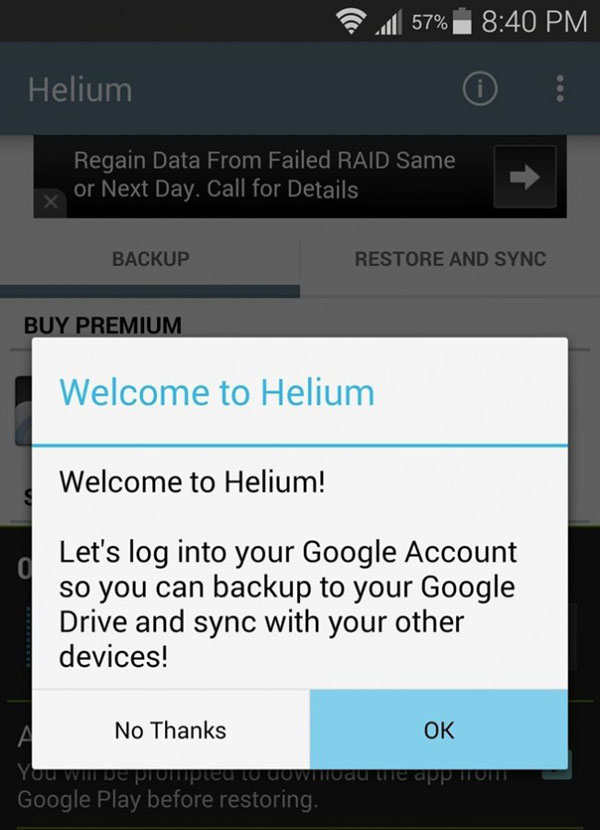 Top 7: Super Backup & Restore
Overview: Super Backup & Restore, a dedicated Android contacts backup app, allows you to back up items like apps, messages, call logs, calendars, bookmarks, etc. It saves data on an SD card, Gmail, or even Google Drive with zero data loss. (Can I recover deleted files from an SD card?) Plus, this tool gives you the ability to run it on Windows as long as you initially load the Bluestacks app.
Main Features:
Share APK files with your friends with one touch.
Schedule automatic backups.
Change a backup folder path as you like.
Multiple backup options are offered.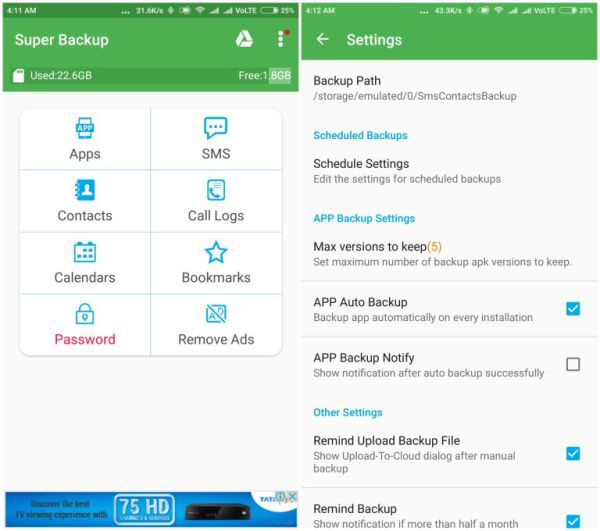 Top 8: MCBackup - My Contacts Backup
Overview: Working offline with a USB cable only, MCBackup - My Contacts Backup enables you to copy Android or iOS files to your computer or send them via email attachments. It carries out simple sync of your device with just one click. However, it only plays functions on your Android contact. During the backup, you'll receive a reliable reminder service from it.
Main Features:
Sync contacts book to selected hardware.
No Internet is required.
It can be set to back up your contacts regularly.
One of the best contact backup apps for iPhone/Android.

Top 9: Contact Backup
Overview: With a vivid and easy-to-navigate screen, Contact Backup facilitates you to back up your Android contacts to the SD card and Google Drive, SDcard, or Gmail. It is exciting that this app introduces a beta version to copy selective contacts to another Android/iOS without a Wi-Fi connection. Besides, it also lets you share the app apart from exporting the .vcf file for backup.
Main Features:
Limited options and functionality.
Auto-login speeds up the backup/transfer.
Safely back up data to reliable cloud service.
A great Android contact editor to manage contacts on Android.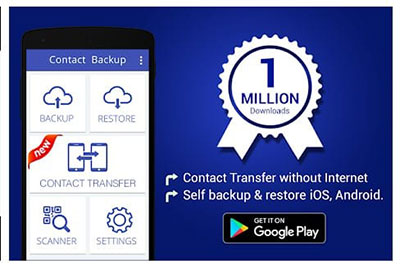 Top 10: Contacts By Google
Overview: Last but not least, Contacts By Google, a contact backup/management app for Android, has good integration with the Google ecosystem. It works to make backups of all your Android contacts and restore them accordingly. Excitedly, it empowers you to take control over your contacts, such as merging duplicate contacts and deleting unwanted ones.
Main Features:
Security of Android contacts is never a problem for it.
Remove duplicate contacts without trouble.
The backup is easily accessible from almost any device.
Only available for Google customers.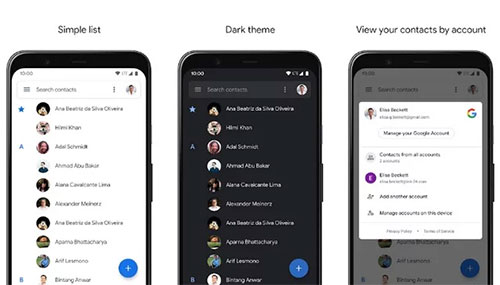 Words in the End
OK, that's all for today. Overall, almost all of the contact backup apps for Android have a rating of 4+ out of 5. And some of them even claim to be the most versatile programs on the market. Still, usability and convenience are factors we are more concerned about. In this connection, MobiKin Backup Manager for Android is arguably the best contact backup app for you. It gains a significant place in the hearts of its users and can solve your dilemma lightly and quickly.
Related Articles:
Top 7 Best Screen Mirroring Apps for Android to PC [2022 Updated]
How to Back Up and Restore Android Devices in 6 Ways [Easy & Quick]
10 Best Android Backup Apps without Root [Most People Don't Know]
Ultimate Guide on How to Transfer Contacts from Android to Android in 2022
How to Edit Contacts on Android with the Best Android Contacts Manager?